Compose music games
Unleash your creative side with these create-your-own music games. They may lack the sophistication of professional music making software but they are very easy and fun to use. Perfect for kids or if you simply want to while away a half hour making something.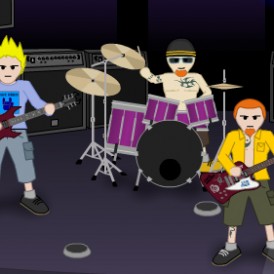 Punk-O-Matic 2
18 plays
Punk-O-Matic 2 is the closest thing you can get to being in a band without, er… actually being in a...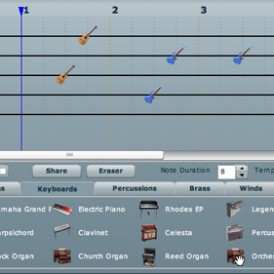 Notessimo
15 plays
The maker of this great compose your own music game should be applauded for the huge amount of effort he...

Punk-O-Matic
Aspiring punks need look no further. Punk-O-Matic provides the easiest way we've...

Super Crazy Guitar Maniac 2
One of the best Guitar Hero style games out there, with tons...

DJ Sheepwolf Mixer
Create your own beats and tracks in this ultimate DJ mixer ...

Dj Sonicx Mixer
Dj Sonicx Mixer is another game that makes it stupidly simple to...

Scratch Simulator
Scratch Simulator is a free flash game from Owens World. You can...
Music Mass
Music Mass is one of the most fun music-creation games I have...

Music
Play music on your keyboard, and play it back! Use the keys QWERTYUIOP...
One Man Band
Create tunes by stacking instruments on the back of Mr Hackbracket, and...
DJ Fest
Play as DJ Fest and make some noise!!
Music Maker
Make your own music with this little gadget
Punk
Punk machine game

Pianist
If this game were simply a piano simulator, as described by its...
Indian
The indian Shankar Drum ganesh machine : create indian music !
Composers Friend
Make own melodies as you play the addictive game! well, kind...
drumit.
drumit. is a flash drum pad. Experiment with different combinations and sequences...
LoopyLoops Xmas
Fun creative christmas themed music sequencer for kids to create loops and...
LoopyLoops Bathroom
Fun interactive sound loop designer for kids.
BobiBobi Composer
Have fun in this cool little game which lets you compose your...
Blergo Beats
A fun and easy synthesizer. Connect in real time and make music...
Piano Master
Have fun playing this virtual piano for music lovers
Drum Machine - Geometric Games
A simple little drum machine with two different drum kits to play...
Daft Punk Song Creator
Create your own versions of Daft Punk Classics.
Daft Punk Keymixer 2
remix and playback daft punk classics
BeatBox 1
Create and mix beats using different instruments, then submit your creations to...
Rock Piano 10
Play the piano rock 2010 ! enjoy making music !
Baby drummer
Baby drummers playing music concert.