Music action games
Stomp on enemies to the beat of the music, scoop up all the beautiful yellow and purple notes while avoiding the dissonant red ones, fire your guns in synch with the rhythm... our selection of music action games includes virtually every combination of music and gaming action that you could possibly imagine.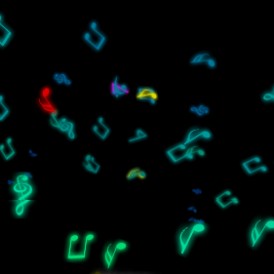 Music Catch 2
7 plays
Music Catch 2 is one of the most beautiful music games on the web. I find it is the perfect...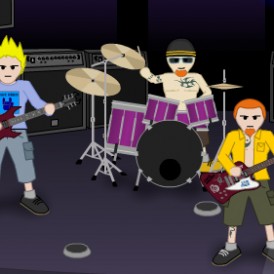 Punk-O-Matic 2
18 plays
Punk-O-Matic 2 is the closest thing you can get to being in a band without, er… actually being in a...

Bugs on the Bayou
Bugs on the Bayou is a beautiful, relaxing game blessed with some...

The Sound Walk
The Sound Walk - a fast action rhythm game with a dark...

Knights of Rock
Knights of Rock takes the Dance Dance Revolution style of game play...
Fireworks Fantasy
Making pretty fireworks explode while listening to great music. What more could...

Take a Walk
If you liked hit XBox indie game Braid, then you will probably...

Ongaku
Ongaku won the rhythm action adventure category of Armor Game's 2007 Rockout...
Socol
Socol is a mix of color-matching gameplay with sound/music. The player rotates...

Gone like the Clappers
This game is best played with access to headphones and a microphone....

Elephant Rave
The elephant in this game does not seem particularly keen on raving,...
Music Catch
Music Catch would be one of the best music games on the...
Music Bounce
You know a game is pretty good when its users have gone...
Goth BubbleJam
Play musical bubbles to gather the notes and reveal the lost Goth...
Symphonic Bus Tour
Symphonic Bus Tour is a physics based driving/adventure game created by members...
Disgusting Hollywood
Disgusting Hollywood (by Stone Widow) is a Glip : it is a...
Hypno8
Hypno8 is a psychodelic game. The rules are simple: follow the spiral...
BeatSpace
Beat Space is a music shooter where you must save the harmony...
Music Runner
Play this 3D style runner… on music! Get the bonuses and don't...
maNga Lost Numbers
2010 Eurovision Song Contest, which will represent Turkey in Group Manga ...
Heaven Road
My interpretation of the song Heaven Rd. 3 by Envy. Step into...
Composers Friend
Make own melodies as you play the addictive game! well, kind...
JABBO Ultimatum
JABBO™ is a fun and engaging music-based game that uses your webcam...
Physic Music Pop
Pop all the block which falls down to the rythm of the...
Music Defence
A new music based tower defence game! Defend your score from waves of...
Franktown Rock-It Racer
A fun music-based skateboard racing game from Franktown Rocks: www.franktownrocks.com.
Operation Music A
A Music game with shining graphic and particles. Relax, enjoy the music...
Cacophony
Notes are flying around the field. They are visually alike, but each...
Abstract Arcade
Experience this colorful shooter with beautiful music and amazing effects! Two different modes...
Time Goes By
This is a music and driving game with 4 sections, once get...
Broken Statement
A timed music based shooter with unique graphics and tons of action....
funky bunny
funky bunny musical game
MusicShooter
A shooter game that you just have to shoot musical notes. It...
Santa Hang
Keep Clicking by throwing santa and adjust ur. Eye and Hand co-ordination...
The Galactic Melody Catcher
The Galactic Melody Catcher will you on a journey to many planets...
Take me to the Disco
A trippy game of avoidance. Dodge the other disco goers for as...
Crowd Surfer
Use your crowd surfing skills to navigate your way across the the...
Pulse
Pulse is a game of co-ordination, skill and timing. You must collect...
We Are Legend
Zombies, chainsaws, flamethrowers, and a hyena. Not just another Guitar Hero ...
Vuvuzela Button
In this funny app you can blow the vuvuzela horn, for your...
OCTOBER
OCTOBER is an experimental tower defense/rhythm game.
Music Avoid
You are the green note, use the arrows to avoid the red...
Crescendo
Build your crescendo and survive for as long as possible!! Max your...
Band RPG
You are a garage band trying to rise to stardom. Travel as...
RKF
RKF is a shooter mixed with a rhythm game.Each bullet sets off...
Hatsune Miku Mission
Cross the fields of musical notes without touching them. Collect leeks magic...
Evenizer
You are a tiny little man that lives inside of a computer....