Rhythm games
How good are you at catching a beat? If you're nothing short of a human metronome, then these games will be a doddle for you. For those less fortunate, our selection of rhythm games can help you hone your beat skills while at the same time being a huge amount of fun.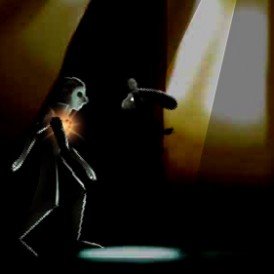 The Sound Walk
28 plays
The Sound Walk - a fast action rhythm game with a dark forbidding ambience - is innovative in so many...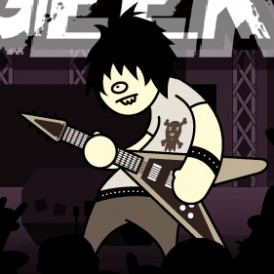 Guitar Geek
19 plays
There are absolutely loads of Guitar Hero knock-offs on the web - this game, Guitar Geek, is undoubtedly one of...

TREBL2
Most rhythm games on the web only give you four keys...

Knights of Rock
Knights of Rock takes the Dance Dance Revolution style of game play...

Take a Walk
If you liked hit XBox indie game Braid, then you will probably...

Ongaku
Ongaku won the rhythm action adventure category of Armor Game's 2007 Rockout...
Fireworks Fantasy
Making pretty fireworks explode while listening to great music. What more could...

Super Crazy Guitar Maniac 2
One of the best Guitar Hero style games out there, with tons...

Gone like the Clappers
This game is best played with access to headphones and a microphone....
JamLegend
JamLegend is a pretty standard rhythm game in the mould of Guitar...
TubeRockers
A rhythm game featuring YouTube videos. Videos may contain strong language. Use...
Shred Master
Use your mouse and space bar and rock out with this rhythm...

HipHop Star
HipHop Star is a rhythm based game obviously inspired by Dance Dance...
Lin Chung Combat
When High Roller and his evil minions launch their attack on Big...
Bring It!
Dance to the beat and bring your skills to the dancefloor, beach...

Dance Floor Destroyer
Choose your DJ or import your own Meez avatar to do the...
Beat
Can you feel the music? Tap the beat out on the...
Hip Dance
Panda and rabbit are on the college cheerleaders team and are in...
Drum Hero 2010
If you wanna become a drum hero this is you game ,...
Starlight Piano
Award winner rhythm game. Easy to pick up and play. Click and...
drumit.
drumit. is a flash drum pad. Experiment with different combinations and sequences...
Chainthesia
Play this unique arcade-puzzle game! Unleash a chain-reaction with your cannon! Can you...
Beat Machine
Play to the beat of twelve amazing songs from artists here on...
TREBL
A rhythm game using ten keys - test your mettle against driving...
Lighto
Lighto is original rhythm-reflex game in which you must navigate the light...
JABBO Ultimatum
JABBO™ is a fun and engaging music-based game that uses your webcam...
Drum Genius
Sometimes even the smallest drum set makes a difference!
Space Beats
Play along to the beat of the music by pressing the correct...
Key Master
Key Master is a rhythm based flash game for your keyboard. Tap to...
ClassiX
Rhythm game! Famous classic music! 5 songs!
Shake Ya MetalHead!
Rhythm game, by MondLicht Game Studios. More games on the way!
Gyroshi
Gyroshi is more of a musical experience than a game. Hit the...
Physic Music Pop
Pop all the block which falls down to the rythm of the...
Rhythm of Arabia
Probably the first Arabic rhythm game ever! play through 4 popular Arabic songs,...
Jungle Musician
Get into the jungle groove and follow the monkey\'s steps.
keyAthlon
Test your finger reflexes in this exciting rhythm game!
Guitar Drum Revolution
Music Game with arrow keys. Dancing Simulation. You must hit the arrow...
Canon d - Run
Crush walls to the beat of Pachelbel\'s Canon
Broken Statement
A timed music based shooter with unique graphics and tons of action....
Drum Machine - Geometric Games
A simple little drum machine with two different drum kits to play...
Rock 'n' Risk
Play this challenging and addicting game! It mixes elements from games like...
Disco Dave's Rythm Challenge
Tap the arrows to score points and combos!
Aigia Fuxia
A Rhythm game from Cyprus! Enjoy!
Hemoragy - Headbang till death
Rhythm game with a song from Hemoragy, the french metal band.
RKF
RKF is a shooter mixed with a rhythm game.Each bullet sets off...
We Are Legend
Zombies, chainsaws, flamethrowers, and a hyena. Not just another Guitar Hero ...
Bemani Xtreme
Bemani xtreme is a music game, a bemani game , click on...
Baby drummer
Baby drummers playing music concert.
Xylophone Master
A rhythm game with a xylophone!
Test Your Sense of Time
Test your sense of time in 20 seconds.
Jumpaloo
Jump! Jump! Jump! Play solo for a fun and challenging game,...
OCTOBER
OCTOBER is an experimental tower defense/rhythm game.
Feel The Beat
Musical timing and coordination game.