Educational music games
Gaming is not simply about fun. Some games can actually help you learn something or improve a skill. If that is your aspiration, then our selection of educational music games should be right up your street. Everything from ear training to games about music theory and composition.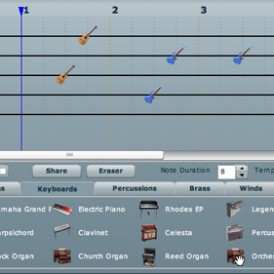 Notessimo
15 plays
The maker of this great compose your own music game should be applauded for the huge amount of effort he...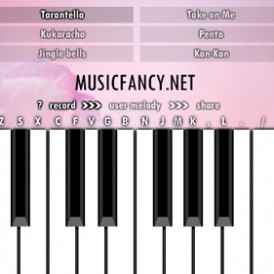 Pianist
2 plays
If this game were simply a piano simulator, as described by its maker, I would not be that impressed. There...

Music
Play music on your keyboard, and play it back! Use the keys QWERTYUIOP...
BobiBobi Composer
Have fun in this cool little game which lets you compose your...
Piano Tutor
Piano Tutor. Learn music.
Blergo Beats
A fun and easy synthesizer. Connect in real time and make music...
Starlight Piano
Award winner rhythm game. Easy to pick up and play. Click and...
LoopyLoops Bathroom
Fun interactive sound loop designer for kids.
Note Factory 2
An ear training game in which you must discriminate between different sounds...
LoopyLoops Xmas
Fun creative christmas themed music sequencer for kids to create loops and...
Repeats Melody
This game will help you check your musical ability. You do not...
Virtual Guitar
VirtualGuitar is a Flash based guitar where you can click around with...
Drum Machine - Geometric Games
A simple little drum machine with two different drum kits to play...
Piano Master
Have fun playing this virtual piano for music lovers
Composer Quest
Try to reproduce the sounds you hear and take care of their...
Guitar
It\'s easy!
Baby drummer
Baby drummers playing music concert.
BeatBox 1
Create and mix beats using different instruments, then submit your creations to...
Musical instruments
Another online game for training visual memory, this time with musical instruments....
Test Your Sense of Time
Test your sense of time in 20 seconds.
Musical Training
Learn the notes. Train your ears.
Feel The Beat
Musical timing and coordination game.
Stopwatch
Can you become a master of time? Simple game to test your...
Music IQ Quiz March 2010
Top songs and Top Artists Quiz How well do you know your...